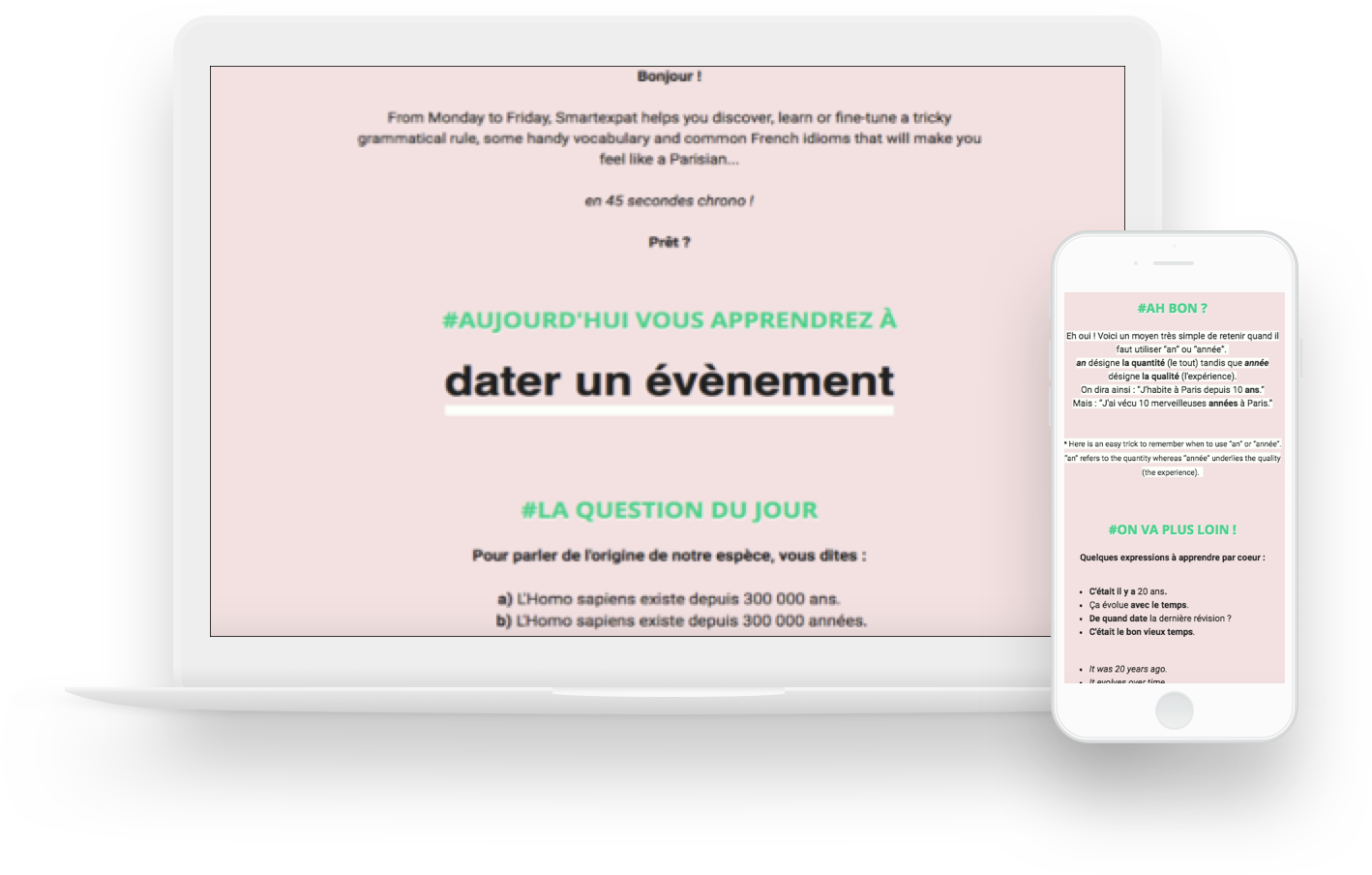 Have you ever wondered if you should use "savoir" instead of "connaître"?
Have you ever heard about the French idiom "avoir un coeur d'artichaut"?
Still don't know about when using "ce" or "cet" before a masculine noun?
We design fun and concise French tips to help you discover, learn or fine-tune a tricky grammatical rule, some handy vocabulary and common French idioms.
Register for free to Mon French Expresso
Yes. We take your personal data very seriously. We commit ourselves to never sell, rent, lend or share your email data to any third party.

You can unsubscribe to the newsletter or correct your personal data whenever you want. Our mailing provider is Mailchimp and provide all the information to do it easily.

We know also how full your mailbox already is and we hate beeing spammed as you might do. We commit to respect your time.
Mon French Expresso is totally free. We want our work been shared, relevant and useful to as many people as possible.
Our core business is to help French learners speak French better with confidence. If you think you should go for some
French lessons in Paris
with a great French teaching expert to boost your French learning, we will be glad to help you!
Just ask us or join us in one of our
Meetup learning activities
in Paris.
We do our best to improve our email deliverability through clean emails and our IP reputation careful monitoring.
First, at subscription, you will receive a confirmation email sent through Mailchimp. Make you sure to click on the link to definitely subscribe to the list.
Despite our efforts, it can then happen that your email get into your spams folder.
All email services such as Gmail, Outlook or Yahoo mail leave you the possibility to definitely unmark
Mon French Expresso
as a spam and add our email adress in your legitimate contacts. Please refer to your favorite email service help center.
In Gmail, the email can be received in your promotions or notification tabs. Make sure you check them or drag the email into your main tab. You can also easily create a filter. More info for gmail users
here
.
Of course, feel free to contact us through the chat so that we can help you.
Browse some Mon French Expresso previous publications